Choose Your Area of Interest
Wednesday March 1, 2023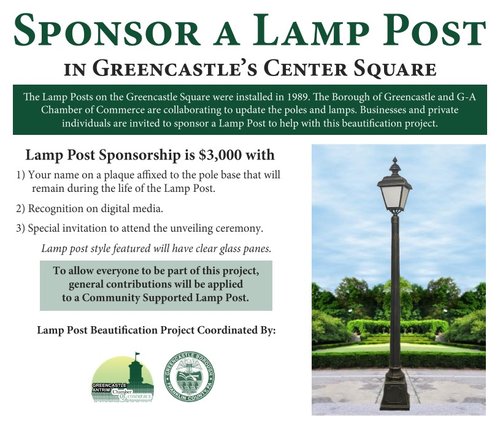 UPDATE: We currently have five more new lights in need of sponsors. Additionally contributions of any amount are requested for a community funded lamp post.
Businesses and private individuals are invited to sponsor a lamp post to support this beautification project.
Please call the Borough office …
Saturday February 11, 2023
If you are experiencing an emergency while the Borough office is closed, please follow the below after hours emergency procedure.
Monday January 16, 2023
In late December 2022, the Borough of Greencastle distributed a survey to the current residents of the Moss Spring community. The survey requested the resident's input regarding potential traffic calming measures in the Moss Spring community related to the proposed Buchanan Flats development. The survey and calculated results are provided below for community awareness.
Wednesday December 16, 2020
Due to COVID-19 sensitivities, all public meetings will held both in person and with a virtual option.
To participate via electronic device or cell phone:
Click on the Meeting URL: https://bluejeans.com
Click Join Meeting button located at the top right corner of the page
Enter the Meeting ID: 362 804 179
Enter the Participant Passcode: 3554
Click Enter Meeting button
To participate in the meeting …
---