Choose Your Area of Interest
Monday October 2, 2023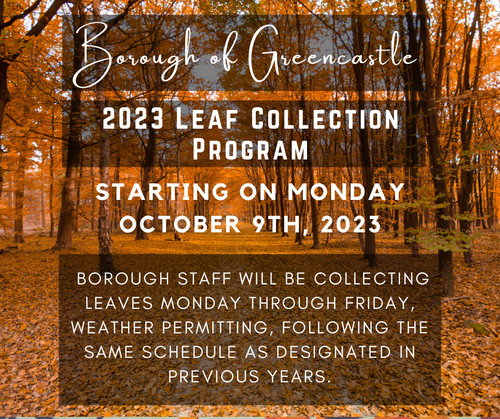 Leaf collection guidelines are as follows:
Leaves must be piled on curb(s) away from light poles, mail boxes, vehicles or any impediment to the collection truck.
Leaves should not be placed in or near storm drains.
Leaves should not be bagged or otherwise contained.
No tree limbs, logs or …
Thursday June 8, 2023

Shentel/Glofiber is continuing their Borough-wide installation of fiber optic lines. The next areas scheduled for installation work will include the following streets:
- Moss Spring, Meadowview, Brookview, Forest View and Field View
- Lohman, Osbourne, Century, Campion and Harriet
Prior to construction residents may notice paint markings indicating existing …
Saturday February 11, 2023
If you are experiencing an emergency while the Borough office is closed, please follow the below after hours emergency procedure.
---